Ariel Corniel
- AGAINST ALL ODDS -
Splitting rays of sunshine tapering into thin streams of light push their way through the cracks of a sinking roof as the day rises over Kite Beach, Cabarete. The drumming sound of the oversized raindrops that pounded the ceiling all night are now a distant memory, but this Dominican family remains huddled in their single room shack, clinging to one another in an attempt to stay as warm and dry as possible.
It's about 6:30 am, and with silent moves thoroughly honed and tested, a small shadow creeps away from the sleeping bundle and scuffles out the door. The banana tree greets him with breakfast before he sprints, barefoot, the 30 meters that separate him from his paradise: the beach. This is where this boy's future lies, where tourists bring all the toys and nature delivers its relentless wind. Ariel Corniel is eight years old with an already lifelong addiction to the ocean. The awakening of the sun means another day of discovery, although with a drastically different lesson plan than that of most kids his age.
Following his lead, three silent ghost-like shadows tiptoe out the door shortly after Ariel's morning escape. The Corniel brothers are awake and ready to embed themselves in another day of kiteboarding history on the north coast of the Dominican Republic. They do everything together, and their everything is kiteboarding. This obsession is only interrupted by the things that keep them alive and breathing (water, food and sleep) — the boys are convinced that they can conquer the world on a kite, but even at his young age, it's Ariel more than any of the others, who has the drive and passion to succeed.
FORGING DESTINY
His eyes scan the sky — first the palm trees and then the ocean to determine whether or not the day will bring the wind he desires. Confirming that it will, Ariel saunters over to his hiding spot and unearths a stick to finish his life-changing task. It turns out to be a broomstick, most likely borrowed from an unsuspecting business somewhere along Kite Beach. Ariel doesn't really know any better, he just borrows stuff.
Armed with a broomstick and the strongest plastic bag obtainable in a world overrun with flimsy single-use sacks, Ariel now has what he needs; but the question is — will it fly? In only a short moment, complete chaos breaks out in the shorebreak outside one of the kite schools causing tourists and instructors to run for cover. Oh yeah, it flies, and with the addition of a broken surfboard, Ariel has conquered the kite and is one step closer to his dream. Growing up in the Dominican staple of extreme poverty with the European tourist's opulent world of luxury just down the street presented Ariel with a different outlook and understanding of life. Education, reading and so-called proper and acceptable behavior were foreign words, and much like consequences for actions, these lessons wouldn't make a mark in Ariel's life at any point during his childhood. But with little more than some wind, water and an advanced model of his first kite, the Dominican boy set out to be a "campeon," a kiteboarding champion, however he could swing it
". . . the boys are convinced that they can conquer the world on a kite, but even at his young age, it's Ariel more than any of the others, who has the drive and passion to succeed."
COLLECTING GOOD-DOERS AND PHILANTHROPISTS
Ariel started winning competitions shortly after finishing his month of plastic bag practice and finally learned how to manage a factory-model kite. Helping him sort out his apparent gear deficiency, pioneer kiter and Cabarete ambassador, Marcus Bohm, gifted Ariel with a kite, a board and a bar to practice with. At this point, there wasn't a harness in the industry that would fit the petite waist of nine-year-old Ariel, so he entered the sport fully unhooked and regularly lit to his teeth. Already, it was widely known that there was a 'condor' on the loose in Cabarete. The Cabarete kite community opened its wings to support the crazy kid everyone was talking about. Tossed amidst the days of Dominican pioneer professionals Luciano Gonzales and Jose Luis Ciriaco, Ariel struggled to make his mark and decided to always do what hadn't been done before.
"It was the only way I felt I was progressing. I saw what the other riders were doing and I went out and copied them. But they were never my own achievements or tricks and I never found them very difficult. It was only when we started competing against one another for the most handlepasses in one jump that it became a little more challenging. I don't think we ever did more than a quadruple."
Personal kite battles aside, the young Dominicans stuck together. The brotherhood and the solid bonds existing between the Dominican riders may be the reason why Ariel and several DR riders have podiumed time and time again. Former sponsor and head of local DR brand, EH Kiteboarding, Eric Hertsens, spent years supporting the riders that today, often top the charts of the world tour events.
"A Dominican rider can never be like other riders. If they tried, they would never make it. There are substantial differences, culturally and socially between the Dominican riders and any rider from another country. This is their turf — their hope and their vision to become champions of kiteboarding. And they do it the only way that they can, by being themselves." Hertsens quickly decided early in the game to go with their flow and support them as far as he could. "I couldn't interfere too much, as they function very well together as a group," he said.
Ariel quickly partnered with Luis Cruz, who just claimed the top spot at the Cabarete World Kiteboarding League competition this summer. The two worked together on trick development, and while Luis was stronger than Ariel on the technical side, the internal competition between the two was one of the most important aspects of Ariel's personal development.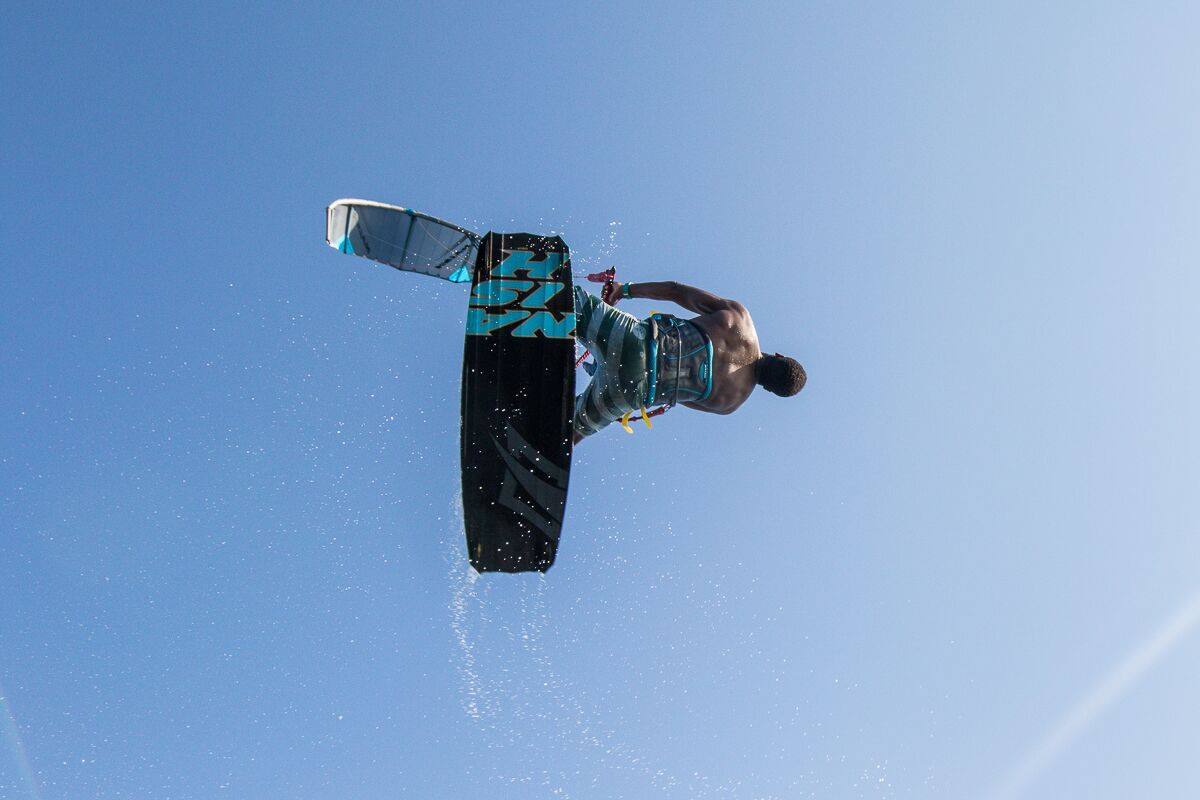 According to Hertsens: "On the water they would compete, but off the water, all of these kids were so poor that they shared absolutely everything; they would fish together, cook together, and eat from the same pot."
2007: THE BREAKOUT MOMENT
Cabarete and Bozo Beach were boiling. It'd been seven years since the plastic bag, and in the meantime, while logging inhuman amounts of hours kiting the waters of Cabarete, Ariel had crashed, ripped and trashed an unthinkable amount of kites in the name of progression and earned his local namesake, 'El Condor,' for his unparalleled intensity while kiting. A more mature Ariel had conquered all of the local competitions, yet the day to prove himself on the international spectrum had finally arrived. The PKRA had returned to Cabarete and there wasn't a relaxed face on the beach.
Crowds of locals were jumping up and down with honor and excitement whilst a sea of Dominican flags filled the event site. Cameras and screaming youth jockeyed for the best spot to catch the action. It was total chaos but the vibe was positive with an unmistakable whiff of celebration in the air. When all was said and done, the wall of spectators and journalists parted to reveal the unlikely victor. Ariel Corniel had reached his goal, his childhood dream had turned into reality and he was finally 'campeon,' the unthinkable winner of a PKRA World Tour event.
"It was a moment of happiness, of course. What else can I say! I had wanted this for my entire life and had been working only towards this goal without caring about anything else. I was never very interested in the same as my friends during those years; some wound up drinking too much, playing with tourists or getting into relationships. I didn't. And in the moment of the win I realized that I had achieved one thing I thought would be the biggest in my life, but it turned out to be only the beginning. You might think the plastic bag was the beginning, but for me this day of winning the PKRA event was it."
The then 15-year-old gained fame amidst the dusty backstreets of his country. Not only was Ariel the first Dominican kiteboarder to win a World Tour event, but also the first rider to win the event on a bow kite. While Ariel's PKRA World Tour win opened new doors, it also presented new challenges. Easy would be a word too loosely used to describe the path that lay ahead.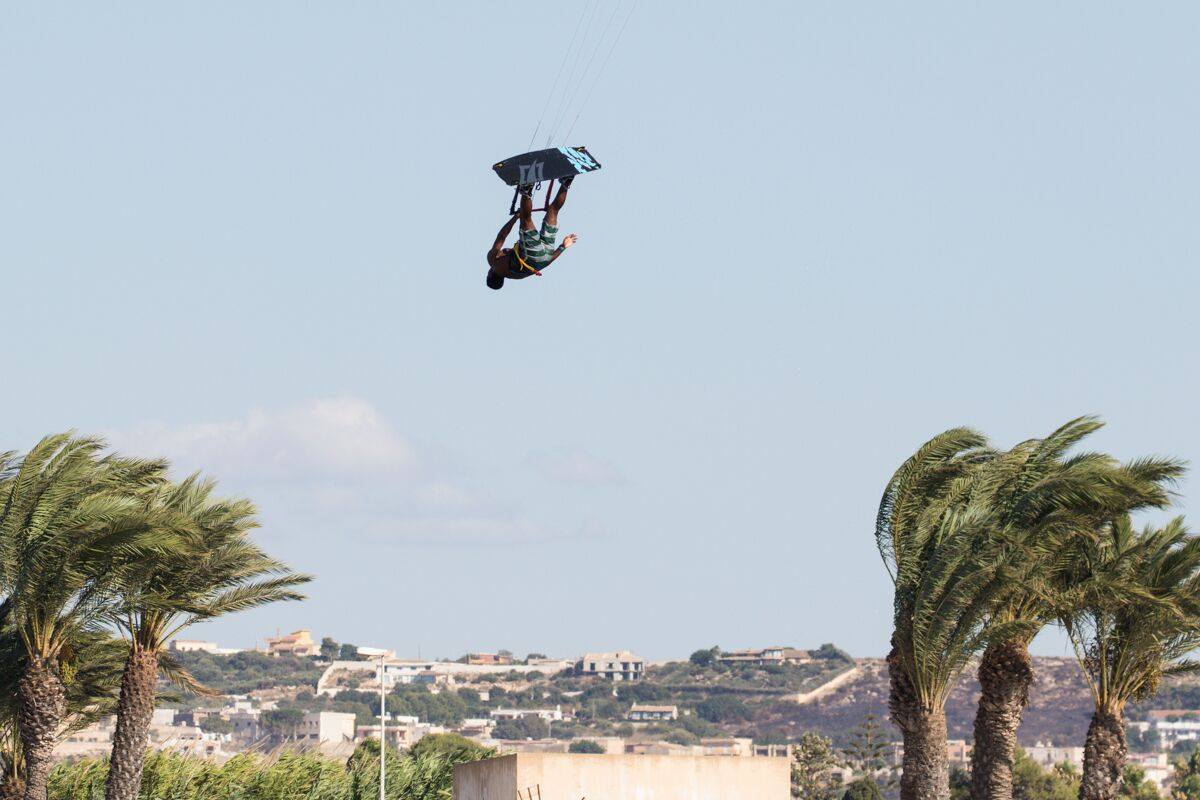 "I realized that I had achieved one thing I thought would be the biggest in my life, but it turned out to be only the beginning"
IT'S AS SIMPLE AS LOOKING FOR THE "i"
Two months after Ariel's big win the phone rang with a concerned voice on the other end. It was pro kiter and kite school manager, Audrey Meyer calling. As one of the Kite Beach pioneers and do-gooders in the community, throughout the years, Audrey had helped Dominican boys find their way and kept them somewhat within the limits of acceptable behavior on Kite Beach.
"We've got everything we need to send you to the next tour stop in Brazil, but we don't have anyone for you to travel with," Audrey said over the phone. He was desperately looking for a chaperone because, in recent years, traveling Dominican riders hadn't gone unnoticed — their often wild and uncontrollable ways occasionally ended in PR nightmares for tour organizers. But more importantly, an illiterate Ariel had never before left his Dominican island, which made navigating the maze of travel an almost insurmountable challenge .
Eventually finding some travel companions, Ariel, Alex Soto, Emmanuel Rondon and Jan Marcos Riveras hit the roads of Northern Brazil on a quest to dominate the Brazilian kite scene, however, the Dominican reception in Cumbuco couldn't have been colder. Alex and Emmanuel giggled in the corner while Jan Marcos expressed his insecurity towards the Dominicans' unpopularity, "I think they are having a crisis meeting at the KPWT camp," but Ariel stated his opinion clearly: "I think they are scared."
The next few weeks would change their acceptance amongst the international kiteboarding scene and leave the Dominicans with all the self-esteem they lacked in the beginning. One by one, Ariel had knocked all of his competitors off the ladder board at the Cumbuco stop of the KPWT tour. The Dominican flag dominated the podium, only letting Tom Hebert sneak on in 3rd place while Ariel stood on the highest step and Alex Soto took second. The next competition on their Brazilian itinerary was the PKRA in Parnaiba, about nine hours north of Fortaleza. Ariel and the boys knew taking the podium in a PKRA event would be a far greater challenge, but this competition wound up influencing how Ariel would decide to continue his quest.
"The Brazil PKRA event was tough. I am the first to admit that, but I think it was good for me that the results from the two tours (PKRA vs. KPWT) were so far apart. I had a lot of excuses, but I did get a little reality check. Let's just say I know what I did wrong and had more dedication for the next event after failing my attempt for the podium up there in Parnaiba."
After five weeks on the road with his first international experience under his belt and some contest cash in his backpack, Ariel set off home. Not knowing how to read or write, Ariel's only instruction entering the Brazilian airports by himself was, 'to look for an 'i'. It was explained to Ariel that the 'i' was the universal sign for 'information,' and with expanded horizons far beyond the dusty kite town in view, Ariel learned how valuable information could be.
Many waves, knots, and competitions have come and gone, but his search for a sponsor to support him to the top is finally over. Eventually, Ariel returned to one of his early supporters, Naish Kiteboarding, and feels as if he has found the formula for the future of success. "It was great when I received the offer from Naish," Ariel exclaimed. "Robby Naish is a hero to me. I want to learn everything he and his crew can teach me."
Maybe the greatest turn of events in Ariel's life isn't the competitions, travel or sponsorship, but rather his connections. In 2007, Ariel met Anton 'Toni' Schur and quickly won him over as a fan and a supporter. Toni began to help Ariel in every way he could, but the relationship became formal in 2012 when Toni and his wife adopted Ariel and invited him to live with their family in the mountains of Germany. "He has changed," says Toni of Ariel. "It's hard to describe how much and I don't think I want to. It hasn't been easy as the Dominican culture is so different from ours in Germany, but Ariel really puts the effort into understanding new ways and stays humble to learn about it all. He has become a good man."
Ariel's new home tucked away in the mountains of Germany keeps him leveled and focused when he's not traveling. He has a new outlook on life, education and a life similar to what he calls 'average.'
"I am forever grateful to Toni and his family for taking me in and teaching me everything I need to know. I understand so many things now that I had no way of understanding before. I have learned a lot about the real values in life and about respect. I've learned how to eat peas, too!" Ariel jokes.
Since Ariel signed with Naish and moved his home base to Germany, his focus has been to master the skills his background never allowed him to learn. The Dominican Republic is a poor country; despite its recent economic growth, the rate of literacy remains shockingly low as the basics of reading and writing are still not readily available as they are in the First World. Ariel continues to train for competitions and travels year-round, with pockets of time dedicated to learning and relaxing in the hills of Germany. However, he's got a new vision for his long term professional career in kiteboarding. "I want to do this for the rest of my life" he says. He's looking forward to learning more about the research and development of equipment along with the marketing of products. The voyage from Dominican poverty to international athlete has not been an easy path and yet the determined flight of 'El Condor' is by no means complete.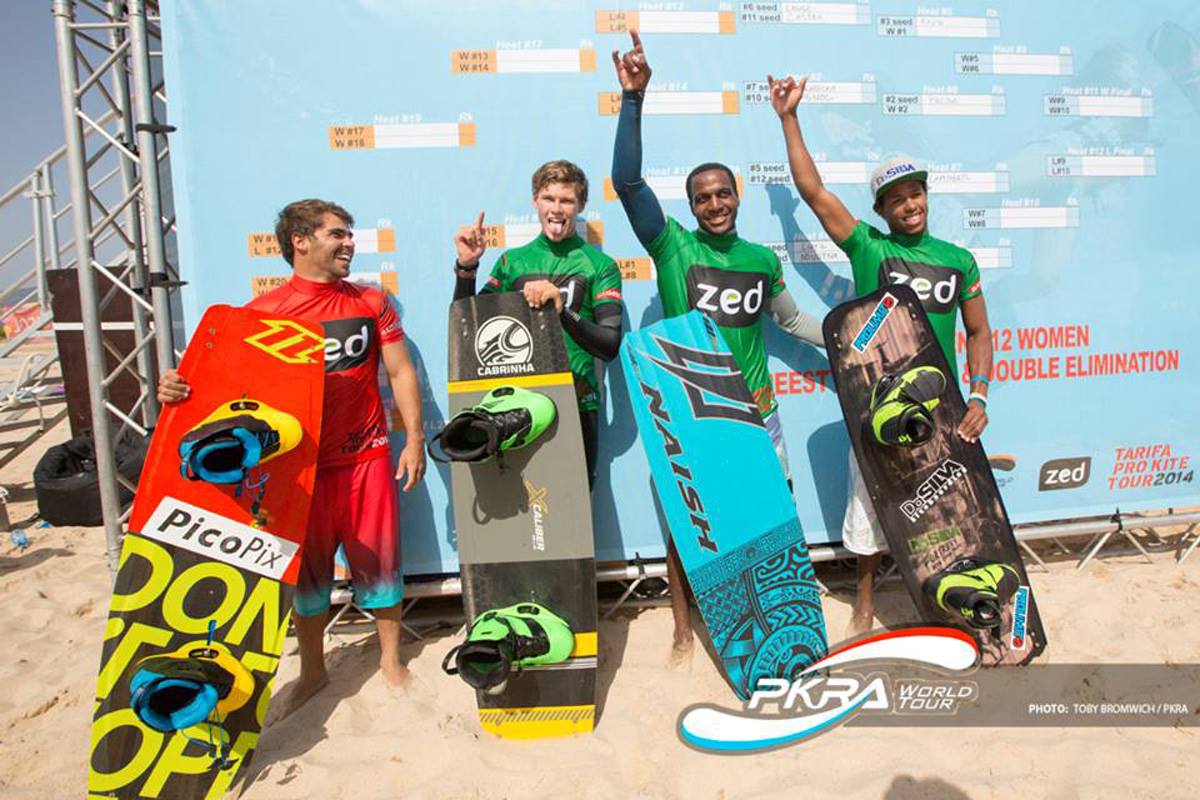 "I want to do this for the rest of my life"